Volunteer Spotlight:
Eva and Landon Lee
Eva and Landon Lee had moved to Waco wondering how they could get involved in the Waco community. In June, they started volunteering at The Cove.
"We really felt like we were supposed to be in Waco for something, but we weren't really sure why. As we dug into it, The Cove just kept coming to the top of the list," Landon said.
The two have been married for 24 years and their son is a junior at Baylor University.
"We've been involved with teenagers ever since we got married. At our church, we had the bus ministry there, with brought in a lot of kids that had family needs. We've always been drawn to that," Landon said.
"Those were the ones we were always the closest to and got to know the most," added Eva.
It was no different here at the Cove. Cove students were instantly drawn to the couple's kind, selfless spirit.
"Every single kid here just instantly had our hearts," Eva marveled.
One Cove student that graduated last year participated in The Cove's Summer Programming. Landon and Eva connected with him immediately. Even though the student has graduated and no longer makes regular visits to The Cove, Landon and Eva have included him into their family.
"We still have a daily relationship with him. I mean, we go pick him up at night after he gets off work and take him home. I mean, he's got us," Landon said.
While some student connections are instant, Landon and Eva have discovered many just take time.
"There are some students that just don't talk very much. We've been here since June, and just now some students are starting to open up. Over the last three weeks, one has opened up a lot to me when we're watering the garden, just started talking about everything," Landon smiled.
While most volunteers commit to one or two days a week, Landon and Eva go above and beyond.
"We started going just Monday and Tuesday, but now when we go to do other things, we just think that we'd rather be at the Cove," Eva laughed.
Cove students are a priority in the Lees' life and it shows. Volunteering at the Cove is a significant commitment.
"People need to know that volunteering at The Cove is not like serving soup at a soup kitchen. It's lives being touched. There is a gravity to it," March Rivera, The Cove's AmeriCorps VISTA relayed.
The Lees show the Waco community just how life-changing The Cove is.
"I'm a mailman, and I get up at 5:30 a.m. thinking about how I get to come to the Cove later," said Landon.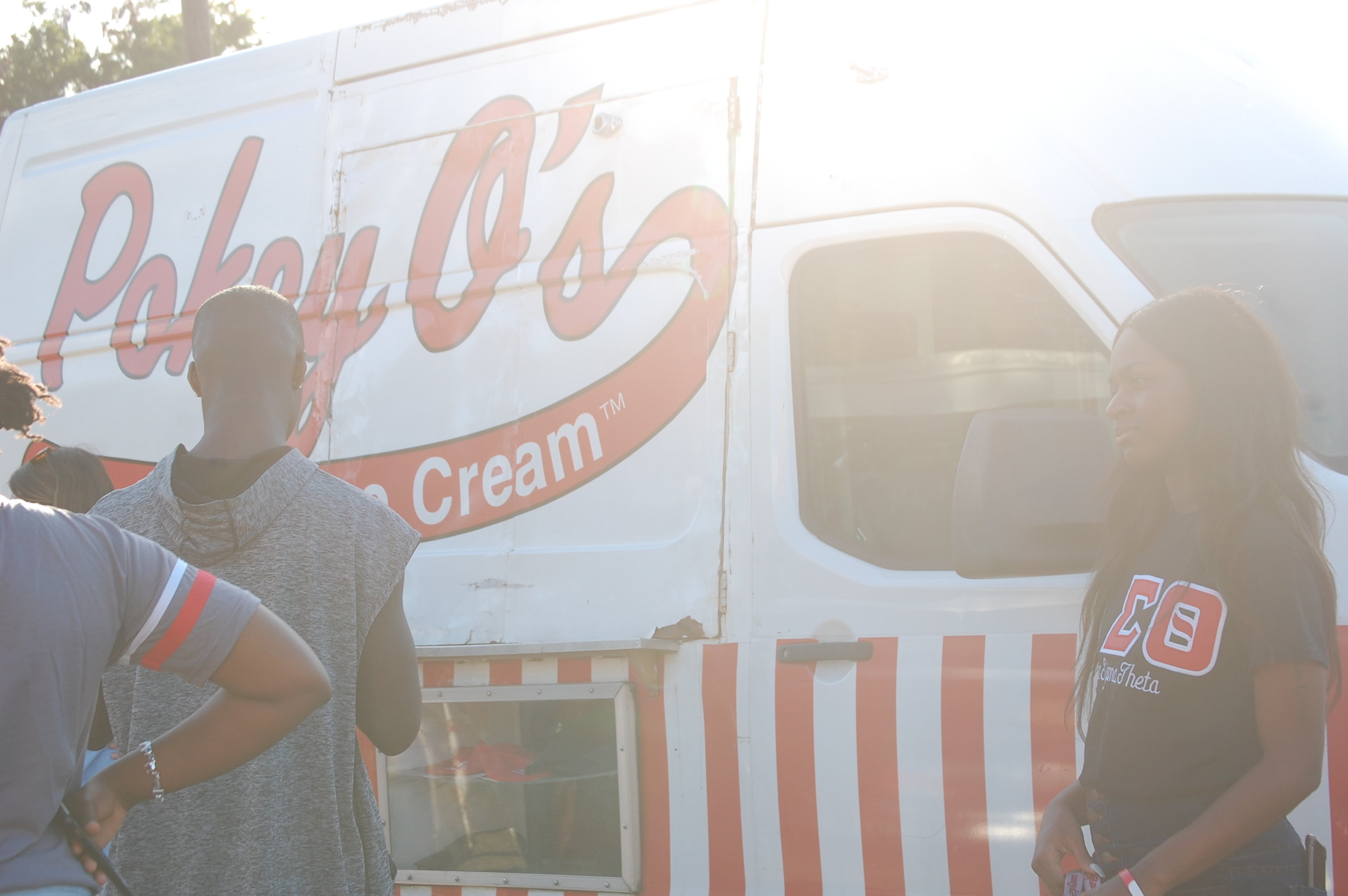 Cove holds Back to School Bash to celebrate students
The Cove started the school year off with a bang at the Back to School Bash! Whether it was eating free Pokey O's ice cream and cookies, playing kiddie pool wiffle ball or throwing water balloons at one another, each Cove student felt celebrated Thursday. Our volunteers, board members, and sorority sisters of Delta Sigma Theta joined the celebration.
Volunteers of the past summer, Sue and Linda, reflected back on a memorable season. "You can tell students feel safe and good about themselves here. And they're motivated. With 12 out of 12 seniors having graduated this past year, we are all so impressed with the Cove's students," Linda reflected.
Cries of laughter and shouts of happiness could be heard from every room of the Cove that evening, and friends connected with friends. Yvette, a case manager at the Cove, also marveled at her sweet student's joy and courage, "If I am ever worrying about anything in my own life, my Cove students tell me not to worry, that everything is going to turn out just fine," Yvette said, "they have learned to be positive, and to never give up."
Delta Sigma Theta's focuses on service and leadership. Cove Board member, Kattina Bryant, originally helped her sorority, Delta Sigma Theta, get connected with the Cove serving as mentors.
"Yet, in the spring semester we provide a curriculum called Delta Gems, and our focus is developing leadership skills for the young ladies of the Cove," Kattina Bryant explains, "Delta Sigma Theta's main focuses are service and leadership. Last spring we were able to have guest speakers come talk to the girls about different avenues of success. We also talk about bullying."
Brandon, another volunteer this summer, helped two students who needed to pass the STAAR and TSI tests. "We worked a few hours each day, and both students passed their tests! It was hard, yet fulfilling work this summer and so worth it."
Toward the end of the night, Delta Sigma Theta performed a stroll, a tradition of expression and celebration in black Greek-letter organizations. Cove students were extremely impressed, asking each sorority member what her ambitions were after college. It was a wonderful way to demonstrate how hard work pays off and how high school work can turn into a college education.
Discussions on
leadership, character
and culture
Normnot Academy, a mentoring program founded by Willie Perkins, started meeting at The Cove this summer. Perkins knew Normnot would do its best to make an impact on students. "I wasn't prepared for what impact these kids would have on me," Perkins said fondly.
Willie Perkins grew up in Waco, going to high school at Waco High and college at St. Phillips College in San Antonio. He and his wife have 7 kids and love volunteering within the Waco community and the local church. In January of this year, Perkins felt God say this year was going to be a year of change. Perkins trusted God, and started believing for this new season.
One day, he and his wife took a mini vacation. While spending quality time with one another, Willie asked, "If we woke up tomorrow and had a billion dollars what would we do?" Both simultaneously agreed, "We would do something with the kids." They felt a clear answer from God that this was what He had for them.
The Perkins have made deep conversations foundational within their own household. "My kids were always asking us how to live, how to make big decisions. Soon my kids' friends would come over, and participate in discussions. Neighborhood kids would also come over to have deep talks, where maybe the space wasn't created in their household for these topics. We began having these kinds of conversations all day." The Perkins home was becoming a safe place for talks of faith, grace, and the future.
"It was just creating that space to allow them to ask us those questions, to help guide their thinking," Perkins said, "Our house is always open." Neighborhoods kids would love it and would keep coming back. This is how the idea for Normnot Academy was created.
"The overarching theme is leadership, understanding your identity and your ability to lead," Perkins explains Normnot's mission, "We married leadership education with community outreach. In our classes, youth learn how to be a better leader, and then go out and volunteer within the community, so that they can put it together. Apply what they have learned."
The name Normnot reflects the Perkins' passion for challenging normality and passivity. Perkins created an equation to tangibly convey the academy's mission: Perception - Population + UNIQUENESS = Normnot. "Whenever our kids would do something that we would consider 'not going with the pack' we would call them a Normnot. It was an identity for us. That's how the name began. We wanted to create an identity where it was okay to believe God will do what he says," Perkins said.
Willie grew up feeling like it wasn't cool to be smart, that he had to hide his A's from his friends, "I wanted my kids to know it's okay to be a 'nerd'. It's okay to make good grades. It's okay to not be normal."
Willie Perkins had incredible vision for his organization. Normnot is now influencing the Waco community day by day, and The Cove was blessed to be partnered with Normnot Acadmey this summer.
Perkins has a soft spot for the Cove, as his family struggled with homelessness. "I'm partial to The Cove, because we were a homeless family," Perkins said, "Everyone I knew, my peers at the time, were in similar situations. If the Cove had been around back then, half my neighborhood would have been involved."
Cove students highly engaged in Normnot discussions this summer and begged Willie Perkins to come back this upcoming fall. Perkins sees a desire for "more" in Cove students - a fire for life that cannot be quenched.
"They refuse to give up. These students know what their life can be," Perkins explains, "They want the secret to life."
Because Normnot Academy cultivates a safe space, many Cove students have opened up to asking hard questions and learning to navigate difficult discussions. We are so thankful for Willie Perkins' investment in our students' lives. We are so excited for what is next to come this fall!
Developing student
leaders at Freedom
School
This summer, five Cove students completed paid Student Leader Internships at The Children's Defense Fund's (CDF) Freedom School. A seven-week literacy and cultural enrichment program for elementary students, Freedom School is a partnership between Baylor's School of Education, Waco ISD and Transformation Waco. The CDF Freedom Schools program seeks to build strong, literate, and empowered children who are prepared to make a difference in themselves, their families, communities, nation, and world. Freedom Schools were created during the Civil Rights Movement to increase literacy outcomes for racial minorities.
This summer, students from the Cove were recruited and trained to serve as paid interns to help at Freedom School by getting students from one class to another, leading chants and PE, and contributing to creative activities.
Eliana Rodriguez, the Cove's servant leader intern, has been so impressed by the Cove students' work ethic and leadership skills, "I think Freedom School has been really good for Cove students because it's important for them to have something that is theirs. So this is their space. Their room. They know that this is their job, their role, their leadership position."
The Cove students have come to deeply care for the youngsters they are leading. "I think this job creates stability for them. When they miss a day, they are sad because they miss the kids, " said Eliana.
"I think that the care they show for the kids is replicated in the care that they show for themselves. I feel strongly that they do want to be here. They take a lot of pride in showing up to work every day. We never have to tell them to wear their blue shirts; every day they bring their shirts. They are always energetic and eager to jump into every task," said Dr. Lakia Scott, Director of Freedom Schools and Cove board member.
One Cove student says the job is hard, but worth the work. The opportunity is teaching her how to show more patience.
"Having a job, starting a first job; it's not easy. I've learned to keep my cool and temper because it's hard sometimes. It's a really good job, I recommend it for people. You learn how to talk to kids, and how to treat them well," she said.
Many of the elementary students look up to the Cove students as role models. One Cove student has a quote hanging up on the wall, "Change the world. Do something no one else has done. Don't mind the people who say things, just be you! Chase your dreams, challenge yourself, and change the world." The elementary students were inspired to do just that.
Cove students are also challenged academically throughout the summer. In the mornings, Cove scholars lead students in a culturally informed reading curriculum, and in the afternoon they participate in STEAM activities (Science, Technology, Engineering, Arts, Math). After reading 6 chapter books this summer, one Cove scholar improved by 3 grade levels in reading comprehension.
Cove scholars not only earned money through their summer-long work opportunity, they also made valuable relationships. Freedom School and Cove staff invested much energy into seeing Cove scholars thrive in their work environment. Without these trusting, supportive relationships, it would have been difficult for students to complete their internships—but they did! This summer's opportunity to serve as leaders at Freedom School helped Cove scholars to know that they can be successful and give back to others. We are truly grateful to the Cooper Foundation and Baylor's Dr. Lakia Scott, Freedom School Executive Director, for making this dream a reality.
Eagle Scouts "cultivate"
care for The Cove
The Cove had a ceremony June 17, to celebrate the Eagle Scout boys and girls who built garden beds for The Cove. Many students at The Cove desire gardening skills, and this gives them the opportunity to watch and help vegetables and fruit grow. This project provides teens with a safe place to tend to something bigger than themselves. A place for dedication to be rewarded with harvest. A place for new beginnings.
Robbie and Franci Rogers, whose son Carter is an Eagle Scout, discovered the Cove through mutual friends, and soon became passionate about The Cove's purpose and passion.
"I think I was most impressed by the fact of how ignorant I was about homelessness. I mean you just assume since I'm eating, I live in a house, why don't you?" Robbie Rogers said.
Dr. Ed Morrison, who serves as Scoutmaster of Boy Scout Troop 308, attended the ceremony.
"I think I struggled with profiling, thinking only 65-year old men were homeless," Morrison said.
"Our kids do their best to stay invisible," said Kelly Atkinson, "So you would not recognize them. They have probably waited on you at your favorite restaurant. They're getting off school buses, just like you and your friends are, and yet, they're worried all day about where they're going to stay."
Carter's Eagle project includes 139 hours of service towards The Cove.
"We all want to touch the world, but we can only do it one person at a time. To the student that has always desired to learn how to garden, this is for them," Robbie Rogers said.
In addition, Master Gardeners visited later that afternoon to help plant butternut squash, watermelon, sweet banana peppers, poblano peppers, and marigold in the garden beds. Cove students are eager to tend to this newly planted garden.